Adam Mbowe
Office Coordinator
Email :
Office.fasa@gmail.com
Office Hours:
Tuesday and Thursday from 11am-4pm.
Pronouns:
She/her
Bio: Adam Mbowe is a Gambian/Canadian, Montreal-based filmmaker. Creating art through moving images has given her the means to describe experiences that may otherwise be forgotten or rarely explained. She hopes to continue to create work that resonates and keeps people reflecting.
Aaliyah Crawford

General Coordinator

Email:
fasalovesyou@gmail.com
Office hours:
Monday 1-5pm - Email me to set up a zoom call!
Pronouns:
she/her
Bio: I'm starting my 5th and final year of a BFA in Print Media, and am also working as the Co-Editor-in-Chief at Yiara Magazine, a student-run feminist art history publication! I'm really passionate about things like institutional memory and community building, and I hope to continue strengthening our operation during my second term. I spend my free time cooking, crocheting humongous scarves, decorating cakes and watching Buffy. I enjoy long walks and my go to cocktail is a vodka soda with a silly amount of lemons. I'm a Virgo sun, Leo moon, Taurus rising and my favourite colour is green. Stop by my virtual office hours to talk to me about your projects, clubs, and hobbies!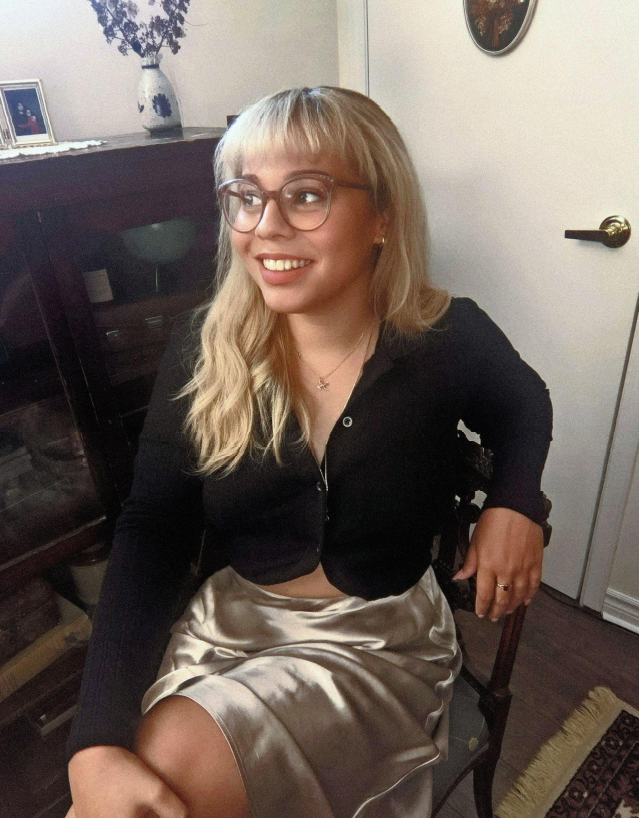 Damien J. Ul

Finance Coordinator

Email:
fasafina@gmail.com
Office hours: Friday - 2:00pm-6:00pm
Pronouns:
She/Her
Bio: Damien J. Ul, 2nd year Film Animation Major, fluent in ENG/FRA and I like ducks. I aim to contribute to the improvement of FASA through policy projects, data collection and finance decisions prioritizing clubs and BIPOC artists at Concordia. For SPGs and all financial enquiries, feel free to reach out to me and I will do my best to help you!
Becca McKay
Outreach Coordinator

Email:
fasa.outreach@gmail.com

Office hours: Thursdays
, 1PM-5PM in person or via Zoom — please email me to schedule a time that works for you!
Pronouns:
She/Her
Bio: Becca McKay is a fourth-year student in a Film Studies specialization and Art History minor. Her undergraduate focus is on adaptive and politically centred media and digital arts, with intersectionality at the core of her research and studies. Becca also works with the student-run Concordia Film Festival as a programmer. At FASA, Becca hopes to reflect the abundance that makes Concordia's Fine Arts community so unique by developing methods to build our community in sustainable and mindful ways. If you have any inquiries or outreach related goals, please feel free to contact her via email or through FASA's Instagram and Facebook!
Maddi Berger

Clubs and Services Coordinator

Email:
fasaclubs@gmail.com
Office Hours:
Wednesdays via zoom, 9:30 est - 1:30 pm
Pronouns:
she/they
Bio: Hello all, my name is Maddi and I'm a fifth-year Print Media major and apprentice at Mitchell Press Works! Originally from the United States, I moved to Montreal four years ago to pursue my passion for the visual arts. When I'm not studying or working, I can be found building printing presses, riding my bike, strumming a tune on my banjo, or playing a game of DnD with my friends. Feel free to send me an email if you have any questions about FASA's clubs and affiliates!
Emem Etti

Student Life Coordinator

Email :
fasa.studentlife@gmail.com
Office Hours:
Tuesday 1pm - 3pm and Wednesday 1pm - 3pm. Meetings are available in person and via zoom. All meetings must be booked ~48 hours prior to the meeting
Pronouns:
She/they
Bio: Emem Etti is a Nigeria-born, Vancouver raised filmmaker and visual artist based in Montreal, Quebec. Community has always been at the forefront of Emem's artistic work, and now as student life coordinator, Emem strives to create opportunities for wellness, community and continual engagement within the Fine Arts student body throughout the year. If you need advice, resources, or a study buddy, always feel free to reach out to your friendly neighbourhood student life coordinator.